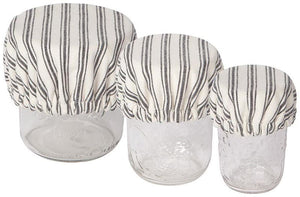 Eliminate the need for plastic wrap by introducing reusable covers for leftovers and more!

These mini bowl covers fit perfectly on jars, cans, and smaller bowls. 
The lining prevents moisture from escaping to keep food fresher for longer, while the charming striped design will brighten up your refrigerator or pantry. 
Made from 100% cotton outer, and 50% polyurethane, 50% polyester food-safe lining.
Large: 152mm diameter. Medium: 115mm diameter. Small: 90mm diameter.