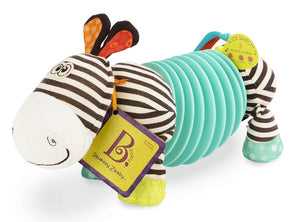 A bendy, squishy, cuddly melody-maker for little music lovers.
Squeak, crinkle and explore multi-textures! Grab ahold of Squeezy Zeeby's plush head and tail – stretch her out and squeeze her back and she'll sing out with some accordion tunes. This toy engages babies with sounds and textures that help development. 
Swap between two sound styles or slip into silent mode, with the flip of a switch.
Recommended for 6 months and over.